Wednesday, February 6, 2013
Review of HEAVEN by Randy Alcorn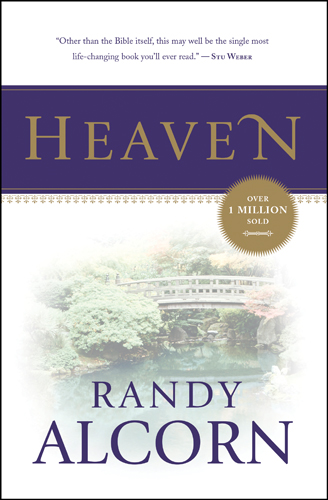 Photo Credit: Tyndale House Publishers
Rating:
5 out of 5
When people think about heaven, they often think about a place that doesn't really sound that exciting in light of the idea that it's supposed to be paradise. Images of floating on clouds, playing harps, and singing for all of eternity for many sounds more like hell than heaven. All of this was blown to pieces first when I read a book by Ted Dekker called
The Slumber of Christianity
, then after reading a book by the man who wrote the foreword to Dekker's book. That was my first introduction to Randy Alcorn and his groundbreaking book HEAVEN.
Alcorn acknowledges the ill-conceived perceptions people have about heaven and show where these ideas fall drastically short of the biblical description of God's dwelling place. While most people think that heaven is beyond our imagination, Alcorn does an extensive exploration of the biblical text to show that God has given us an incredible amount of description about what our eternal destiny will be like if we follow Jesus.
One of the first things I came to realize from reading HEAVEN was that the heaven people go to now when they die isn't the place they'll be forever. Alcorn calls the present heaven an intermediate heaven. After reading it, I thought, "How could I have missed this when the Bible makes it so clear?" Alcorn then describes the extent of God's redemption, which includes all of his creation. Earth's redemption is necessary to God's plan. God created the earth to be inhabited by people, not to be destroyed in the end. If God did away with the earth and carried his followers to heaven forever, then the devil will have won in a sense. While sin has made our world unfit for an eternal home, the Bible descries God renovating and restoring the earth in the end. The final chapters of the Bible describe heaven as a beautiful city coming down to earth and coming to dwell with his people forever in a sinless restored earth. I was floored by this, and yet it's right there on the pages of Scripture.
The rest of the book answers questions about what the Bible specifically says our eternal state will be like in a helpful question and answer format. Some details we of course can only speculate about because we don't have all the answers, but drawing from Scripture, Alcorn describes an eternal state with God that is anything but boring. It's incredible and, though I want to continue living the life he's given me on earth, I am excited about eternity and the opportunities God will give us there.
If I were to pick a top 5 books of all time that I've read, HEAVEN would easily be in that list. Few books have encouraged me and enlightened me more. I've since read several of Alcorn's books and he's become one of my favorite authors. Every Christian needs to read this book. It's the best resource on the Bible's theology of heaven.
Review copy provided by Tyndale House Publishers