Wednesday, June 27, 2012
For followers of Jesus, evangelism can be one of the most intimidating activities we can engage in. It's hard to know what to say or even how to communicate the gospel in a way that will appeal to our hearers. After all, we're out to persuade people of their desperate need of Jesus. Saying a person needs Jesus doesn't exactly communicate why someone needs Jesus.
Jonathan Dodson has released a new ebook called THE UNBELIEVABLE GOSPEL, and in it he touches on the common concerns believers have that often stop them short of sharing their faith with others. Believers often worry about how they will come across to those they're talking to. They worry they will come across as preachy and self-righteous, impersonal, intolerant, or a know-it-all.
Dodson proposes that for many Christians evangelism is reduced to an opportunity to "name-drop" the name of Jesus and that what we often communicate is an unbelievable gospel. What I really love about this book is Dodson's brilliant presentation of "gospel metaphors," different facets of the gospel message as presented in the Bible, to communicate the gospel at the point of a person's deepest need. The gospel metaphors are:
• Justification
• Redemption
• Adoption
• New Creation
• Union with Christ
Dodson a chapter on each gospel metaphor and shows how each of them addresses the specific concerns believers have about sharing their faith. Gospel metaphors are about helping people find Jesus where they most desperately need them. All the gospel metaphors are vitally important, but one gospel metaphor may speak to where someone is at more readily than the others at the time we're trying to communicate the gospel to them. Dodson illustrates each of the gospel metaphors with stories of his own gospel conversations with people, and this really puts flesh to the ideas he's communicating.
THE UNBELIEVABLE GOSPEL is available on the new Gospel-Centered Discipleship Bookstore. It's a quick read, but full of practical wisdom for Christ-followers to put into practice in their gospel conversations with people.
I was provided with a copy of this eBook for free from the author for review, and the opinions contained in this review are completely my own
Be sure to check out the new Gospel-Centered Discipleship Bookstore
Today our little boy Sylar turns one. One year ago we were sitting the hospital, stressed to no end because Sylar wasn't breathing well because of the anesthesia. Today, he has a remarkably strong set of lungs :) Lindsey and I are blessed with the endless adventure of raising our wonderful three children. It's been a crazy year that has felt like a blur. It's interesting to watch Sylar's personality develop and watch how he interacts with his brother and sister. Lindsey and I both know God wants to do great things in him and through him, and we just pray that we cultivate his heart to love God and love people well. He loves to talk. He loves to play. We love his smile when he gets excited. We're blown away by how blessed we are.

Happy Birthday, Sylar!
Monday, June 25, 2012
Photo Credit: Cruciform Press
Who the book is for:
Calvinists
Rating:
4 out of 5
I should probably start this review by mentioning that I'm not a Calvinist. However, I don't land in the Arminian camp either, though that often seems to be the catch-all category for non-Calvinists in the Calvinist mind. I do believe that God is solely responsible for any man's salvation, but I also believe that man is solely responsible for his own condemnation by rejecting Christ. If I had to describe my theological position, I agree with about 90% of what Dr. Kenneth Keathley has to say in his book SALVATION AND SOVEREIGNTY. All that is really to say that I read KILLING CALVINISM by Greg Dutcher as a non-Calvinist who cares deeply about the interaction between Calvinists and non-Calvinists and the picture of God that is portrayed to a world that desperately needs him.
KILLING CALVINISM: HOW TO DESTROY A PERFECTLY GOOD THEOLOGY FROM THE INSIDE is a call for Calvinists to examine the common temptations that Calvinists can fall into that might cause people to be shut off to Calvinism. What I love about this book is that it was written by a Calvinist who was humble enough to acknowledge the shortcomings that those in the Calvinist camp often fall into. The specific ways that Dutcher mentions that Calvinists often kill their theological system were no surprise to me because I've witnessed every one of them in Calvinists I've known. But what's great about KILLING CALVINISM is that Dutcher, as a Calvinist, has a heart to help other Calvinists be aware of the temptations they may face as Calvinists who are also fallen human beings, and his heart for this is about making sure the gospel is communicated freely and beautifully to a lost world without a theological system acting as a stumbling block on the path toward faith in Jesus. Let's face it, it would be really hard for a non-Calvinist to convince a Calvinist that these things are often true of them, and therefore need to be changed. We're much more prone to listen to someone within our own camp, so Dutcher has done a great service to Calvinists and non-Calvinists alike with this book.
So how does a Calvinist "kill Calvinism"? Dutcher describes eight ways:
1. By Loving Calvinism as an End in Itself
2. By Becoming a Theologian Instead of a Disciple
3. By Loving God's Sovereignty More Than God Himself
4. By Losing an Urgency in Evangelism
5. By Learning Only From Other Calvinists
6. By Tidying Up the Bible's "Loose Ends"
7. By Being an Arrogant No-It-All
8. By Scoffing at the Hang-ups Others Have with Calvinism
Dutcher spends eight chapters elaborating on each one and calling Calvinists to a humble, loving, and God-glorifying way of life.
Non-Calvinists reading this book need to be able to accept that Dutcher is a Calvinist and believes that non-Calvinists are wrong, but Dutcher is graciously calling Calvinists to act in love toward non-Calvinists and to even learn from them, even if they don't agree on issues related to soteriology.
My hope for this book is that it will get into the hands of the many Calvinists who struggle with the temptations that Dutcher to describes. My hope is that it will change lives and that believers, whether Calvinist or non-Calvinist, will be able to love one another as fellow members of the body of Christ, as well as share the goal of reaching people for Christ, even if they don't agree on exactly how Salvation is worked out.
I received this book for free for review from Cruciform Press, and the opinions contained in this review are completely my own
Photo Credit: Crossway Books
Who the book is for:
Husbands who want thriving marriages and happy wives
Rating:
5 out of 5
I married my wife Lindsey nine years ago after dating her for four years. She has always been incredible, loving me more than I can think possible or even understand most of the time. The tendency for many men is to pursue their wife in the pre-marriage dating stage, doing all the things to win her heart. It seems that men have a primitive drive to pursue that which they want most. In the case of Lindsey, I wanted her, wanted to be with her, wanted her to be just as excited about being with me, so I pursued her with almost single-minded focus. I bought her flowers, took her on dates, wrote her love letters, wrote songs about her. But the tendency among men is to slow down in the pursuit once we walk down the aisle with the woman of our dreams. Perhaps because we've got her, she's committed herself, and maybe we somehow think that we don't need to pursue anymore. Maybe our attitude becomes more about maintaining what we have rather than pursuing anything deeper and more meaningful.
But the pursuit shouldn't end. I think men are natural pursuers, and there is no greater pursuit for a man than the heart of his wife. According to short yet insightful new book by Justin Buzzard called DATE YOUR WIFE, the pursuit of a wife's heart is a man's greatest and most important calling by God. I read DATE YOUR WIFE in a matter of a couple of days, and I'm sure it's the most important book I've read this year, and one that I'm definitely going to be going back through immediately with a pen in hand.
DATE YOUR WIFE is a call for husbands to pour their hearts into their marriage, but Justin Buzzard makes it very clear that men cannot create a thriving marriage on their own. DATE YOUR WIFE is a very gospel-centered book, encouraging husbands to look at their lives and allow the gospel of Jesus' death and resurrection completely transform them into the kind of husband God envisions for a wife.
Buzzard puts an incredible amount of responsibility for a marriage's health upon the husband and whether or not he trusts in empty works-based religion or gospel transformation. He first shows what is wrong in most marriages and attributes most of the blame to the husband, since he is called to be the head. Then he walks us through what is right when a husband is thoroughly transformed by the gospel, so that his beliefs and the actions that flow out of those beliefs lead him to pour love and life into the heart of his wife.
The central call of DATE YOUR WIFE comes from a refreshing look at the Adam and Eve narrative. Buzzard shows that just as Adam was called to "cultivate and guard" the garden God placed him in, he was also to "cultivate and guard" his marriage to Eve. Obviously, we know the story of how Adam failed to guard his wife from the lure of temptation. Just like Adam, we are to "cultivate and guard" our marriage. Dating our wives is about taking the time to cultivate a loving and nourishing relationship with our wives, as well as guarding against anything that would threaten that relationship.
It's easy to become complacent in being a husband, but DATE YOUR WIFE dares me to dream of an ever-growing and ever-deepening future with my wife. The thought that kept running through my mind is, "Will my wife still be glad she married me when she's seventy years old?" As a husband, I could waste her life, or I could breathe gospel-driven hope into her heart. I want to bring life.
The book isn't just about theory, though. Buzzard encourages husbands to develop the air war and the ground war of dating our wives. The air war is the big events of our lives that we plan out to nourish our relationships with our wives, but the air war isn't enough. We need the ground war, the things we do day-by-day and week-by-week to exhibit our deep affection for our wives. The book even closes with one hundred ideas for dating our wives. I'll be putting several of these into practice, as well as coming up with my own.
DATE YOUR WIFE is an important book because husbands need to date their wives. They need to pursue their wives as if their marriage depended upon it. At least, that's the calling I'm walking away with from this book. I'll be recommending this book to every husband I know because not only is it a great book on how to develop a healthy marriage, it's also a compelling presentation of the gospel message and our desperate need for a savior. Justin Buzzard has done a great service to husbands and wives who follow Jesus with this book.
I received this book for free for review from Crossway Books, and the opinions contained in this book are completely my own
Sunday, June 24, 2012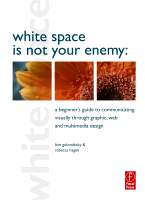 Photo Credit: Focal Press
Who the book is for:
Anyone interested in learning multimedia design
Rating:
5 out of 5
WHITE SPACE IS NOT YOUR ENEMY by Kim Golombisky and Rebecca Regen is beginner's guide that covers all the basics of communicating visually through graphic design. Whether you're putting together a brochure, a newsletter, or a website, this book introduces you to the foundational concepts that will have you designing quickly.
I don't have a background in design. I've put together a few things like flyers and basic websites before. This book is great because it walks a beginner through some very foundational concepts in a concise and clear manner. The authors point out some common mistakes that beginning designers makes, mistakes I know I've made on several occasions. The "works-everytime-layout" is perfect for putting together quick informational flyers. The Mini Art School is really helpful, as well as the chapters on grids, color, type, and using photos. I especially liked the chapter on storyboarding because I love visual storytelling.
If you're interested in graphic and multimedia design, WHITE SPACE IS NOT YOUR ENEMY is a great place to start. I can't wait to put some of the things I've learned from it into practice.
I received this book for free for review from Focal Press, and the opinions contained in this review are completely my own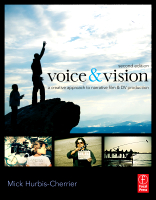 Photo Credit: Focal Press
Who the book is for:
Beginning film students
Rating:
4 out of 5
I love seeing really great stories communicated visually through film. There's a lot that goes into making a film, and it requires a lot of talented people working together to produce something that viewers will enjoy. I've always been interested in the screenwriting area of filmmaking because I'm a writer and storyteller, but lately I've been interested in the other areas of filmmaking. For example, what would a person need to know to create a really great film on their own?
VOICE AND VISION by Mick Hurbis-Cherrier has a lot of the answers of what it takes to make a quality film project. It's a large book packed with a lot of helpful content on the whole process of film production. Beginning with the idea and moving on to the screenplay, Hurbis-Cherrier takes us on a journey to taking the screenplay from words on a page to images and sound on a screen. The book covers technical aspects, such as lighting, cameras, recording sound, and editing. The book also has a section on cast and crew and how to work with them.
The author is quick to point out that one book cannot contain all there is to know about film production, but VOICE AND VISION includes an incredible amount to get the beginning film student on their way to making quality film projects. I highly recommend this book.
I received this book for free for review from Focal Press, and the opinions contained in this review are completely my own
Tuesday, June 12, 2012
Photo Credit: Writer's Digest
Who the book is for:
Writers
Rating:
4 out of 5
Can you write a novel in twenty-six days? Rochelle Melander, the author of WRITE-A-THON, believes that you can. WRITE-A-THON is a guide to preparing for and executing the writing of a novel or a nonfiction book in marathon style in twenty-six days.
The book is divided up into three sections. The first section is Training. It's all about getting prepared to write a book. There's some great stuff in this section, from determining writing strengths, to outlining a novel or non-fiction book. The second section is the actual write-a-thon, and this section is mainly about encouraging the writer in the midst of the writing marathon. The final section is Recovery, and it's about revising the book you've just written during your write-a-thon.
What's great about this book is that it's written in short digestible chapters that include practical writing tips for fiction and non-fiction writers alike. Not everyone has the time to set aside twenty-six days in order to write a book, but the information contained in this book is still helpful even if you don't plan on doing your own write-a-thon.
I received this book for free for review from Writer's Digest Books, and the opinions contained in this review are completely my own
Who the book is for: Electric Guitar Players
Rating: 4 out of 5

I've been playing guitar since I was fourteen years old, and one of the most exciting things about playing guitar, especially electric guitar, is manipulating the tone of the guitar to get just the right sound that you want. But coming up with a great sound doesn't just come naturally. For me, I had to learn how to manipulate the sound by trial and error. I would listen to songs with guitar sounds that I really liked, then I would sit down with my amp and a multi-effects pedal and try to replicate what I was hearing. Truthfully, it was often frustrating because I didn't know exactly what I was doing.

Course Technology has released a new book by Mitch Gallagher called GUITAR TONE: PURSUING THE ULTIMATE GUITAR SOUND. I wish I would have had a book like this several years ago. It's a complete guide on everything that affects the tone in guitar system. Everything from the material and construction of the guitar itself, to amps and effects, to the small things like picks and strings, Gallagher takes readers on a complete journey through the sonic possibilities of playing electric guitar. I especially enjoyed the chapter on the effects available for guitar player and exactly what each effect does to a guitar signal. The chapter on amps is really helpful also. The book closes with several chapters on the famous guitar tones of guitarists such as Eric Clapton and Brad Paisley.

One thing that would have made the book better would have been photos to illustrate the iconic guitars and effects. Overall, however, the book was immensely helpful, and I'm looking forward to continue manipulating my guitar signals to get the sounds I want, and this is the perfect guide to help.

I received this book for free for review from Course Technology PTR, and the opinions contained in this review are completely my own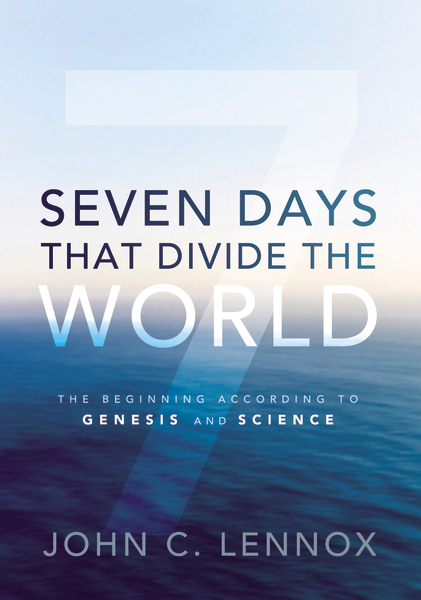 Photo Credit: Zondervan
Who the book is for:
Christians and anyone interested in science
Rating:
5 out of 5
Is the earth millions of years old or only a few thousand years old? Does the Bible teach that the earth is young, or is there another possibility? I've always wondered how the Bible seemed to teach a young earth, and yet science seemed to point to the universe being millions of years old. Obviously, as followers of Jesus, we should trust the Bible, but we can't just ignore the evidence that says the universe is much older than Bible interpreters have traditionally led us to believe.
In his book SEVEN DAYS THAT DIVIDE THE WORLD, John C. Lennox explores Genesis 1 and 2, and provides some incredible insights about how science and the Bible actually complement one another. Lennox shows how Genesis can be interpreted to show that the earth is only a few thousand years old, but that isn't the only interpretation that Genesis leaves open to us. Looking at what the Bible actually says, Lennox shows that the days in Genesis 1 may be put forth in such a way to show that they are six important and significant days in God's creative activity, but may not be six days of one earth week. Each day may be the inauguration of an undefined amount of time, until the seventh day when God rests from his creative activity. When Genesis is read with this in mind, several of the findings of science actually correlate with what the Bible says.
Lennox also points out several of the failures of evolutionary theory to show that human beings were a significant and special creation. An added appendix points out the flaws of theistic evolution. Another great feature of this book is the chapter where Lennox reveals what Genesis 1 has to teach us about God as Creator.
I read this book in a matter of two days. Lennox has given us a great and insightful book about the relationship between science and the Bible. It's a short book that packs a lot of information in a concise manner. Any Christian would benefit from reading this book.
I read this book for free for review from Zondervan, and the opinions contained in this review are completely my own
Monday, June 11, 2012
Photo Credit: Scholastic Press
The fate of medieval land called Carthya is at stake after its king and queen are murdered. In the wake of this news, a nobleman named Conner has a plan to use one of four orphan boys to impersonate the king's long lost son named Jaron. In two weeks' time he will prepare each of the boys to both fool and assume rule of the kingdom as the kingdom's only hope for peace. One of the boys, Sage of Avenia, is a rebellious kid with no desire to be Conner's pawn, but he realizes the only hope of his own survival may be to become the long lost prince Jaron. In a contest to see who is most like Jaron, will Sage be able to convince Conner that he can be the prince of Carthya?
THE FALSE PRINCE is the first book in Jennifer Nielsen's new Ascendance Trilogy, and it is a surprisingly thrilling journey of one boy's ingenuity in the midst of a desperate struggle to survive a man who will stop at nothing to bring his risky plan to completion. I picked up THE FALSE PRINCE because of its comparison to THE HUNGER GAMES. I loved THE HUNGER GAMES, and I love trilogies, so I was hoping to discover a new series that would keep me intrigued throughout. While THE FALSE PRINCE is a quite a different story from THE HUNGER GAMES, I really enjoyed the story, and I'm looking forward to seeing where the story goes next.
The story is told from the first-person point-of-view of Sage, and this takes us into the mind of angst-driven rebellious teenager. As his story, and where he's from, is progressively revealed throughout the story, I got the sense that Sage is a drifter, trying to find a place in the world where he belongs. Conner is a brutal man who isn't above killing to get what he wants. The bitter contest between the boys forces the character of each of them out. This becomes clear through the actions that Roden and Tobias take throughout the story to put themselves ahead of the curve.
Nielsen has created a world on the brink of war, and this makes the events of the first novel in her trilogy important. It's thrilling and ultimately surprising in the end. It's a great introduction to what is surely going to be a well-known and loved story.
I received this book for free for review from Scholastic Press, and the opinions contained in this review are completely my own
Photo Credit: Zondervan
Who the book is for:
Anyone interested in Bible study and theology
Rating:
5 out of 5
J. Scott Duvall and J. Daniel Hays provided the evangelical world a clear and effective guide to reading, interpreting, and applying the Bible when Zondervan released their book GRASPING GOD'S WORD. Designed to walk believers through a journey with God through discovering and applying the transformational theological principles in the Bible. But while GRASPING GOD'S WORD was all about correct Bible interpretation, there is a need for grasping the overall story of the Bible and how our stories relate to it.
LIVING GOD'S WORD by J. Scott Duvall and J. Daniel Hays is the perfect companion to GRASPING GOD'S WORD in the journey to discovering God more through the Bible. LIVING GOD'S WORD takes a look at the Bible's metanarrative and shows how the whole Bible comprises one grand story with God as its main character. The authors divide their book up into the major sections represented in the biblical story, and they do this in a memorable way by titling each of their sections with a C name such as Creation, Covenant, Church, etc. The authors encourage readers to get into reading the Bible and provide ways for doing that. Each chapter closes with an application section that relates our story to the biblical story.
The authors of LIVING GOD'S WORD are great at guiding the journey through God's word, and this book is a helpful addition to any Bible study library.
I received this book for free for review from Zondervan, and the opinions contained in this review are completely my own
Thursday, June 7, 2012
Who the book is for: Anyone interested in creating films or videos
Rating: 5 out of 5

I've made a few videos, and one of the most difficult things about creating a quality video is to capture great audio. In the past, I've been frustrated when I capture video only to discover when I sit down to edit that the audio has a lot of background noise and voices can barely be heard. If you're trying to create a visual story, poor audio takes a viewer out of the the story. It's impossible to fix poor audio in the editing phase, so the only way to get great audio is to capture it during initial filming. I would try different methods to figure out how to capture quality audio, but I couldn't come up with anything I was satisfied.

Fortunately, Michael Wiese Productions has a new book coming out soon called LOCATION SOUND BIBLE by Ric Viers. LOCATION SOUND BIBLE is a complete guide on recording professional-sounding dialogue for film or video. The book covers everything from basic sound concepts, to types of microphones, to mic placement and boom techniques, to types of recorders, and much more. There's even some helpful tips on proper etiquette when working with people from whom you'll be recording dialogue. The book includes helpful illustrations throughout.

If you're interesting in creating films or videos, great-sounding dialogue is integral to the success of your production. LOCATION SOUND BIBLE is a great resource for learning the best techniques for capturing quality audio. It's a very technical book, so it's a good idea to read with a pen in hand and even read it more than once.

I received this book for free for review from Michael Wiese Productions, and the opinions contained in this review are completely my own