Sunday, June 24, 2012
Review of VOICE AND VISION by Mick Hurbis-Cherrier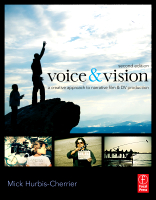 Photo Credit: Focal Press
Who the book is for:
Beginning film students
Rating:
4 out of 5
I love seeing really great stories communicated visually through film. There's a lot that goes into making a film, and it requires a lot of talented people working together to produce something that viewers will enjoy. I've always been interested in the screenwriting area of filmmaking because I'm a writer and storyteller, but lately I've been interested in the other areas of filmmaking. For example, what would a person need to know to create a really great film on their own?
VOICE AND VISION by Mick Hurbis-Cherrier has a lot of the answers of what it takes to make a quality film project. It's a large book packed with a lot of helpful content on the whole process of film production. Beginning with the idea and moving on to the screenplay, Hurbis-Cherrier takes us on a journey to taking the screenplay from words on a page to images and sound on a screen. The book covers technical aspects, such as lighting, cameras, recording sound, and editing. The book also has a section on cast and crew and how to work with them.
The author is quick to point out that one book cannot contain all there is to know about film production, but VOICE AND VISION includes an incredible amount to get the beginning film student on their way to making quality film projects. I highly recommend this book.
I received this book for free for review from Focal Press, and the opinions contained in this review are completely my own