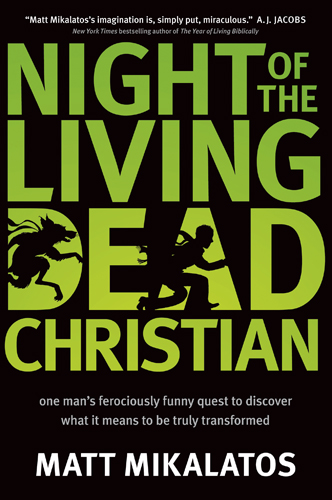 Luther has a serious problem. He wants to be a good person, to love his wife and daughter well, but something dwells inside of him that is very much a part of him that has little self-control or care for others. Luther is a werewolf, but not the kind you would usually think of. Luther is a man whose spiritual dark side takes a very tangible form of a werewolf, and he's desperate for transformation, for something to kill the werewolf inside. Along with Matt Mikalatos, a mad scientist, and an android, Luther goes in search of a cure to lycanthropy. Specifically, he's heard that being a Christian will change him, but he's never seen Christianity that really changes anyone. During their surprisingly hilarious journey, they discover zombies who have the appearance of being alive, but are actually dead, and vampires who take from others to survive. They have to find the cure quickly because a werewolf hunter is on their trail to kill Luther.
Matt Mikalatos, who is one of the main characters of this story, is also the real-life author of NIGHT OF THE LIVING DEAD CHRISTIAN. Though movie monsters abound in this story, it's actually a funny satirical look at Christianity and what the truly transformed life looks like. Though funny, Mikalatos, through the voice of Luther, explores what popular Christianity often presents as life-changing and conveys a desperate longing for Jesus and true transformation. NIGHT OF THE LIVING DEAD CHRISTIAN touches on struggles that all Christians face and strives to bring hope in the midst of our inner darkness.
The story is compelling throughout, due to the ridiculous turns it takes, and it's a quick book to read. It's a great commentary on the nature of Christian transformation.
I received this book for free for review through the Tyndale Blog Network