Sunday, January 6, 2013
Review of Zondervan's THEOLOGIAN TRADING CARDS developed by Norman Jeune III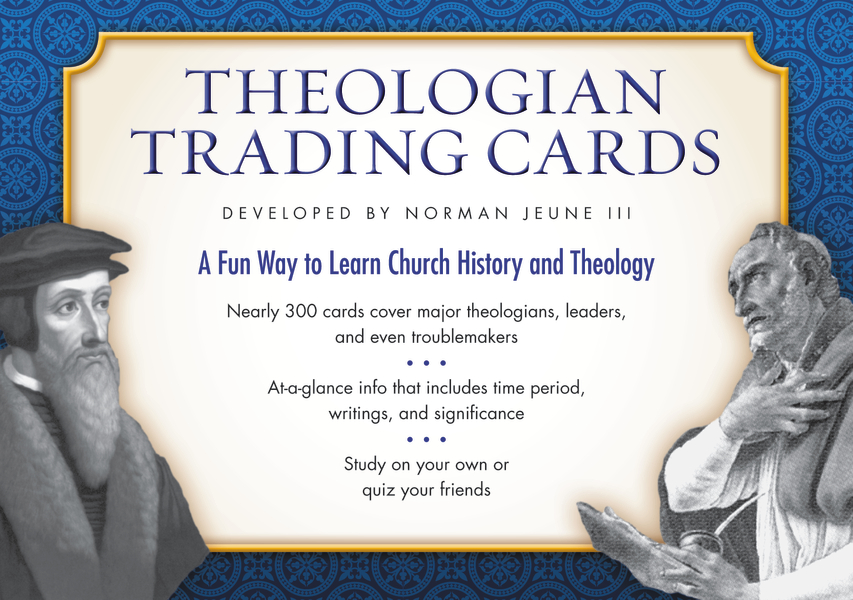 Photo Credit: Zondervan
Rating:
5 out of 5
Zondervan's new THEOLOGIAN TRADING CARDS are a unique approach to learning about the most outspoken and influential theologians in church history. I loved collecting baseball and football cards of my favorite players when I was younger, and these cards take that baseball trading card concept and apply it to theology geeks like me. Developed by Norman Jeune III, there almost 300 trading cards that span the beginning of church history to modern day and take a look at theologians who were orthodox in their theology and even the most prominent heretics church history has known. For example, not only do you have a card on Saint Augustine, but you also have a card of his most famous theological opponent Pelagius.
Each card features a theological figure in church history with some brief biographical information, followed by what made this figure significant enough to be mentioned. This may include their teachings, whether orthodox or heretic, or their most well-known writings. The cards are divided up into some cleverly titled teams to further give you the baseball trading card feel.
When I first heard about the THEOLOGIAN TRAIDING CARDS, I have to confess I thought it was a ridiculous idea. But the more I heard about them, the more I wanted to check them out for myself. I have to say that I love these cards. I love reading about Calvin, Arminius, Luis de Molina, Augustine, and a host of other prominent figures in church history. The box the cards come in touts the cards as, "A fun way to learn Church History and Theology." It's a very accurate description.
Review copy provided by Zondervan