Monday, November 5, 2012
Review of DEEP AND WIDE by Andy Stanley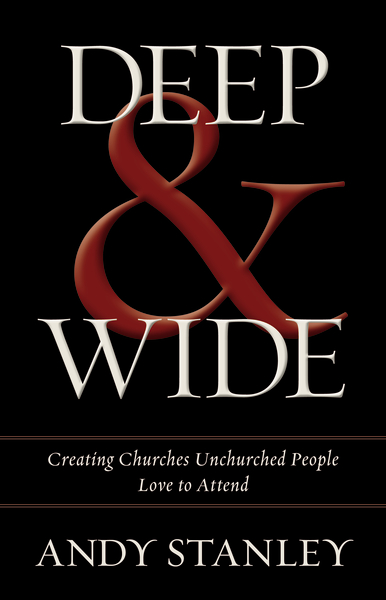 Photo Credit: Zondervan
I've been following Andy Stanley and the ministry of North Point Community Church for several years, so I was really excited when I found out that Andy Stanley was releasing a book covering North Point's strategy of "creating churches unchurched people love to attend." DEEP AND WIDE is an incredible guidebook on doing effective church ministry that reaches unchurched people, helps them commit to the church, and grow in their relationship with Jesus.
First, Stanley tells us the story of how North Point came about, sharing a transparent account of working for his father Charles Stanley at First Baptist Church of Atlanta, and the tragic aftermath of his parents divorce. It's clear that his experiences shaped how he approached doing church.
Stanley gives us the layout of North Point's strategy in creating a church environment that unchurched people feel comfortable checking out. He explains how North Point approaches reaching these people with the gospel of Jesus, and the means they use to reach people.
I love Stanley's honesty and conviction about doing things in a way that some people may find unorthodox. For example, Stanley is known for topical preaching. Stanley argues that all of the Bible is inspired, but not all of it is equally applicable at all times. He even shows how Jesus chose texts that were relevant for the moments in which he was preaching. Jesus didn't preach verse-by-verse. Not that there is anyone wrong with verse-by-verse. Stanley is also passionate about biblical application, arguing that Jesus was always preaching for a response.
As I read this book, I got excited about the prospect of designing a church that unchurched people love to attend. There are a lot of books on strategy for doing church, but this is definitely one of the best.
Review copy provided by Zondervan Publishing