Thursday, May 31, 2012
Review of AUDIO ENGINEERING 101 by Timothy A. Dittmar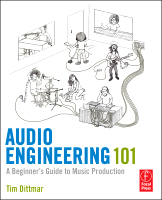 Photo Credit: Focal Press
Who the book is for:
Anyone interested in recording and mixing music
Rating:
5 out of 5
AUDIO ENGINEERING 101 by Timothy A. Dittmar is an easy-to-read and understandable guide on audio and recording production. I've always loved music. I love the way sounds come together to create something that sounds truly amazing. Dittmar explains the seven characteristics of sound, how to use EQ effectively, signal processing, and signal flow. Illustrations throughout the book make the concepts of audio engineering easy to understand.
Dittmar goes a step further in making AUDIO ENGINEERING 101 a helpful guide for aspiring sound engineers by including discussions about people skills and studio session procedures, as well as chapters on pursuing internships and career opportunities with the knowledge the book provides.
I studied recording production in college, and AUDIO ENGINEERING 101 explains the process of engineering a music production from start to finish better than my professor did in college. The book would make a great textbook for recording production students, and I wish I had a book like this when I was studying. Anyone interested in recording should pick this book up. You'll be ready to jump into experimenting with recording as soon as you finish.
I received this book for free for review from Focal Press, and the opinions contained in this review are completely my own